Consulting from experience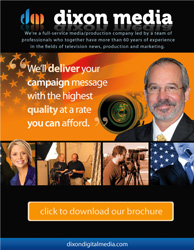 Dixon's work has been recognized and honored within the news industry, having received nine regional Emmys, 22 regional and four national Edward R. Murrow awards, more than four dozen Associated Press awards and three Gold World Medals from the New York Festivals. In addition, under his leadership KATV was awarded numerous Telly and Associated Press Mark Twain News Gathering Awards. His producing assignments have included most major American sporting events and news stories in every state within the United States plus international travel to Bosnia, Cuba, Nepal, the Ivory Coast of Africa, Italy, Peru, Romania, the Netherlands, Honduras, Belgium and the Arctic region.
Preserving history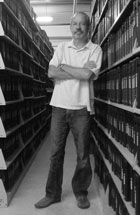 Conversion of 3/4" Umatic, Beta, S-VHS/VHS, Hi8, Digital Hi8, MiniDV/HDV, 8mm, Super-8 and 16mm to harddrive or DVD. Safeguard your irreplaceable footage today for future generations. Even in the best of conditions film and magnetic tape will lose its ability to maintain its integrity. You will never be able to go back in time for a re-shoot. Protect your investment by transferring to digital today.
Dixon Media is currently preserving the KATV video archives donated to the Pryor Center. We can do the same for you. More about the analog to digital process...
Helping with heart
Dixon has used his skills to benefit numerous charitable organizations including the National
Organization for Victims Assistance, Winrock International, Heifer International and the Anne Pressly Scholarship Fund. After the tragic death of KATV reporter Anne Pressly, Dixon co-authored and published Making Memories: A Celebration of the Life of Anne Pressly. All proceeds from the book sales benefited the Anne Pressley Scholarship Fund, raising more than $90,000 to date.
Getting you the most
Contact Randy Dixon now and learn how Dixon Media can help your organization with editing, production and media relations solutions.
In addition to his documentary work, his media consulting clients include CrossFit and The Pryor Center for Arkansas Oral and Visual History.